SAP Business Network and Opportunities to Leverage
Over the last decade, we have seen network-based startups like LinkedIn, and Airbnb also known as platform businesses create value by facilitating connections between buyers and sellers, this model fueled companies' revenue growth and profitability.
In the B2B world, how a network-based business partnership on a platform can create a ripple effect in B2B collaboration? Let's delve into SAP software, that manages business operations and customer relations, what they have in store!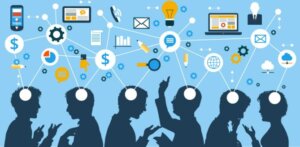 SAP Business Network is one such technology platform that provides trading partners with far more effective cooperation to maximize mutual benefits and achieve operational excellence.
SAP business network has 3 distinct network collaborations, designed for different stages of the supply chain.
–> Procurement collaboration for Sourcing, contracting, purchase orders, invoices, payments
–> Logistics collaboration to track shipments, freight management, Track Sustainability like carbon footprint, emission footprint
–> Asset intelligence to collaborate among asset owners, operators, and service providers with seamless information sharing and feedback on performance.
Lets look into how below 4 factors are addressed in SAP business network
1. Diverse competitive network : One thing is clear, with such a network there will be the diversified supplier and customer base, it will deliver insights on capacity, demand, sustainability, ESG etc.….that provides competitive edge in the respective business.
2. With such a complex set up, can Onboarding partners really be simple ?
Well, the personas to be onboarded are indirect supplier, direct suppliers, carriers, freight forwarders , finance providers, the success of onboarding & continued engagement clearly reply on super simple UI and world class user experience.
3. In such complex setup, how one can tap into MSME network ?
If Covid really taught us anything, it is how MSME sectors really scaled up and produced & supplied the essentials, that saved many lives, if business network can really be simple and inclusive to tap into MSME sectors? will have to wait and watch how it unfolds.
4. Can we build application extensions to solve a unique business challenge in this business network.
This is where SAP BTP has a bigger role to help build cloud-based partner applications and provide seamless user experience with a business network that can solve complex use cases.
In Summary, there is a huge opportunity in the B2B business network for the customers, partners, software partners to leverage new opportunities and solve unprecedented supply chain disruptions and scale company revenue growth and profitability.