Unveiling the Transformative Journey: Insights from Adidas Webinar with Brainbox Consulting Digital
By – Pallavika Barthakur – Marketing, Sales Enablement, and Change Management, Brainbox Consulting Digital
This captivating webinar, hosted by Brainbox Consulting Digital and featuring guest speaker Cyril Colin from adidas, was a true delight. Cyril, a French native working in Germany, currently holds the esteemed position of Senior Director at adidas, leading the global S2PAY division. With a warm introduction, Cyril took us on a journey through the iconic brand of adidas, shedding light on their powerful motto, 'Through Sports, We have the power to change lives.' He enthralled the audience by mentioning renowned athletes from soccer, basketball like Lionel Messi from the soccer world who proudly represents adidas. Cyril also highlighted the company's commitment to sustainability and their highly skilled workforce.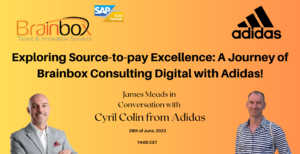 Following Cyril's insightful talk, James, representing Brainbox Consulting Digital, guided us through the remarkable milestones of the company's journey from 2018 to the present. Despite being a relatively small and young company compared to adidas, Brainbox, an SAP gold partner, has successfully expanded worldwide with numerous SAP Ariba projects. Cyril cheerfully acknowledged adidas' longstanding partnership with Brainbox since its inception. He then delved into the enlightening transformation journey of Brainbox's approach for adidas, encompassing the realms of D2PO and PO2PAY within SAP Ariba.
Not only did Brainbox provide invaluable consulting expertise, but it also supported global rollouts and supplier onboarding. Recognizing the need for change, Brainbox assisted adidas in formulating the right strategies, facilitating effective communication with suppliers and internal stakeholders, and handling crucial change management aspects. The collaboration extended to Fieldglass deployment for adidas procurement and ongoing invoice automation in the PO2PAY domain, with future adoption expected through OCR solutions and Ariba Business Network. Cyril emphasized that this journey required a meticulous change management process, with local procurement teams guiding respective markets towards invoice automation.
Cyril then summarized the remarkable five-year roll-out journey of Ariba Guided Buying for adidas, starting in 2018. Overcoming challenges, they initially focused on difficult countries and markets, eventually expanding to North America, Europe, and emerging markets, even during the COVID-19 crisis. Finally, last year marked their successful venture into Latin America, with the Brainbox team's invaluable guidance under the leadership of Jai Bharat Maram, for which Cyril expressed his heartfelt gratitude.
During the webinar, James inquired about the need for an external partner like Brainbox in this transformative journey. Cyril aptly replied that Brainbox filled the gaps in knowledge, expertise, and manpower that adidas lacked as a larger organization. While bigger implementation partners often have fixed processes and rigid approaches, Brainbox's flexibility, open-mindedness, and professionalism ensured they were there whenever needed, helping adidas progress swiftly. Their collaboration with Brainbox, a small but knowledgeable company, proved to be the right path for adidas.
Cyril graciously answered participant questions on topics such as catalog enablement, category analysis guidance, procurement strategies, sustainability requirements for tail spend management (which adidas is still strategizing), and the Spot Buy functionality.
As the webinar drew to a close, an icebreaker Rapid Fire Q and A session on work-life balance brought Cyril's inspiring perspective to the forefront. Despite juggling a busy professional life and a family with five children, Cyril shared his secrets to managing work-life balance, including engaging in sports such as cycling, which he also enjoys with his colleagues during a weekly company event. He emphasized the importance of maintaining separation between work and home, despite the omnipresence of smartphones and technology. Adidas follows a hybrid policy whenever possible. Cyril encouraged individuals seeking to incorporate sports into their busy lives to set targets and persevere, as he does by waking up early for runs, even during business trips, to keep his mind clear and goals in focus.
Lastly, Cyril shared his love for travel and diverse culinary experiences. He expressed his fondness for the unique flavors of Indian cuisine, following his recent visit to India, and reminisced about a delightful trip to Japan.
In conclusion, Cyril expressed his immense satisfaction with collaboration with the Brainbox Consulting Digital team and eagerly looks forward to future opportunities to work together.
About Brainbox Consulting, SAP Partner: Brainbox Consulting, a gold partner of SAP, specializes in intelligent S2P and supply chain solutions. With expertise in SAP procurement solutions and a focus on the SME market, Brainbox Consulting offers end-to-end spend management process support. Their multidisciplinary team of business and IT professionals brings years of industry experience and niche skills to deliver quality outcomes and delight customers.
To watch our recorded webinar, please Click Here: