20/04/2020
A crucial parameter for business success defined by quality and competitiveness in today's fast economy is the performance of suppliers. Performance is in many cases linked to the correct selection and capabilities of suppliers within an organization putting a lot of pressure on the skillset of employees. As easy as it may sound, selecting suppliers and eventually following a performance process can be considered two major challenges in an enterprise's supply chain. No clear spend visibility, non-standard processes with the appropriate follow up and lack of creation and management of the contract agreements are only some of the pain points today's businesses might be facing. As a first step into alleviating these issues is a shift to a digital Source to Contract Suite (S2C) software which enables businesses to obtain the supplier results necessary through a combination off added value solutions such as; e-Sourcing tools to generate requests for information, quotes and proposals (RFX) and vendor selection, Contract Lifecycle Management (CLM) tools for creation and management of contracts and supplier risk and performance management. By the end of this blog, you will be able to understand the benefits of SAP Ariba S2C suite and the importance of implementing such a solution.
What SAP Ariba S2C solution can offer you?
It can be understood that for such a digital solution there are different providers worldwide. Among them, SAP Ariba, after research from Forrester Wave in the last quarter of 2019, showed it to be one of the leaders in this area carrying,  the second-best analytics and e-Sourcing modules, the largest client base, the most revenues of any S2C vendor, the widest geographic scope and broadest industry coverage.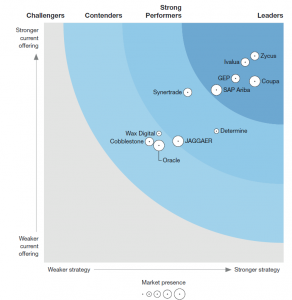 SAP Ariba S2C offers a solution for both direct and indirect materials consisting of three main solutions, the SAP Ariba Sourcing, SAP Ariba Contracts and SAP Ariba Supplier Lifecycle and Performance (SLP). In this blog, we will focus only on the first two modules.

SAP Ariba Sourcing is one of the strongest solutions in the upstream architecture as it brings the quickest visible results and contains features such as:
A broad set of RFX types, including requests for information and proposals, reverse auctions, and forward auctions with rapid creation
Competitive and flexible bidding and timing options driving to bid optimization and decision support
Team grading and collaborative scoring so the speed is increased and responsibilities across the team are shared accordingly
Supplier response management
Communications and messaging among system users and suppliers
Project management
Workflow and approval management
Document management
Sourcing analysis and reporting
Integration to third-party systems
SAP Ariba Contracts adds value by providing easy user adaptation to create and manage contracts within procurement and sales, digitally by including features such as:
Complete visibility of the contract cycle with automatic alerts, handy dashboards, and configurable reports
E-signature savings with the elimination of time and expense of shipments and multiple signed contract copies
On-time renewals with notifications about the key milestone dates of the contracts with suppliers
Strong compliance with automated tracking about the off-contract activities
Project management
Workflow and approval management
Document management
End-to-end commerce while it can be integrated with additional SAP Ariba solutions and third-party systems
How can you benefit from it?
Still, a valid question remains; What is the advantage for your business?
With SAP Ariba Sourcing, businesses discover new, qualified suppliers and they trade globally without worrying about multinationalism as the systems support multiple languages and currencies. Thus, reducing risk by finding better and more adaptive suppliers and conjointly gain visibility, identify savings opportunity, drive material cost savings and optimization across all spend categories and most importantly, ensuring that these savings are fully realized.
Due to the benefits, it is proven that businesses can
realize immediate savings of between 8% to 14%
achieve significant reductions in sourcing cycle times of 50% and in administration costs of 15%.
Considering the SAP Ariba Contract solution, it is valid to mention that implementing such a solution, users standardize and control contract development and approvals while they automate the entire contract lifecycle. Businesses have the opportunity to collaborate with internal stakeholders and trading partners and eventually avoid missing deliverables and milestones. Quantifying some of the results, it is important to refer that with the help of this solution, an enterprise:
improves efficiency with 50% faster contract cycles,
prevents leakage resulting in a 1% to 2% per cent increase in total revenues and
has up to 30% lower administrative and legal costs.
Need support in your Source to Contract strategy ?

SAP Ariba S2C solution is proven to help you increase your direct savings and eventually add value to your business by tackling with issues such as low supplier's performance, poor supplier selection process, no clear spend visibility and a lack of contractual agreements management.
Our Source-To-Contract deployment methodology focuses on faster implementation, transparency, predictability and sustainability. Our primary purpose is to first analyze and understand your spending and following to design, build and test the end-to-end solution. Starting with your spend analysis, we concentrate not only on SAP Ariba S2C implementation but also to your whole sourcing strategy and process.
Want to know more feel free to contact us at sales@brainbox.consulting or call us at +31639175566 for a free consultation. We would love to get to know you and your organization better!
Author: Athanasia Tsagri – Associate Consultant at Brainbox Consulting
Source: https://www.ariba.com/solutions/solutions-overview/strategic-sourcing/sourcing-solutions