Streamline Your Invoice Management with SAP S/4HANA and Process Automation: A Digital Transformation Journey
Author – Jacek Krzeminski
Are you striving to achieve a seamless invoice-to-pay process that is transparent, efficient, and compliant as one of your key business objectives?
If you are using SAP S/4HANA Cloud, public edition, or considering moving to this ready-to-run cloud ERP that delivers the latest industry best practices and continuous innovation, I have good news for you!
There is a solution that can help you easily achieve your goal: SAP Central Invoice Management with inbound processing for SAP S/4HANA Cloud, the public edition.
Current challenges: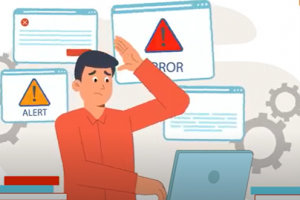 Processing invoices is often a highly manual process that requires intervention from different people, within different tools and platforms. Invoices are often received in PDF or image formats (JPEG, PNG, TIFF, etc.), and data needs to be extracted from these invoices and entered into the target system. If this process is done manually by a person and there is a high volume of invoices received, it can be highly inefficient and prone to errors.
Savior available:
Luckily, there is Optical Character Recognition (OCR) technology that can recognize text inside images or PDFs, such as scanned documents, and convert it into machine-readable text files.
OCR can support processing agents by reading invoices and making the data from the document meaningful, making the process more efficient and less prone to errors. However, using only OCR will not make the process fully hands-free and automated to the expected level.
Ideation: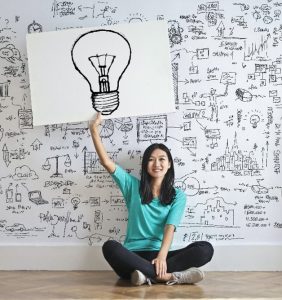 What if we could automate the process in a way that no person is required to initiate the OCR recognition once the invoice is received in our email?
That would simplify the process and make it even more efficient, allowing our Accounts Payable (AP) teams to focus on more important tasks. Again, with the help of technology, we can use Robotic Process Automation (RPA) to automatically identify and pick up invoices from our inbox and initiate the OCR process.
With a BOT that automates the collection and uploading of invoices to OCR, and the OCR itself, we can fully streamline the process with minimal to no human intervention. And if the OCR software is integrated with our invoice management system and allows us to match the data from the invoice with fields in the system, it's even better.
Final Solution:
SAP Central Invoice Management with inbound processing for SAP S/4HANA Cloud, public edition allows us to make use of all the above-mentioned improvements as part of one integrated package, resolving problems of operational inefficiency, increasing costs, and risks in processing invoices. The solution automates the process from capture through validation and approvals, allowing us to get the "ok-to-pay" with as little human intervention as possible in one single environment.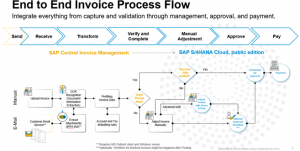 The combination of native products that can make your invoice-to-pay processes transparent, efficient, and compliant includes: 
SAP S/4HANA Cloud, public edition: 
Comes with business processes that incorporate industry standard best practices.
Gets you started quickly using a guided implementation process, fast technical setup, and a role-based, intuitive interface for everyone who uses it.
Adds the latest technology, such as built-in artificial intelligence (AI), machine learning (ML), robotic process automation (RPA), and analytics, so your business operates better.
Handles technical operations including backup and disaster recovery, system maintenance, data protection, and best-in-class uptimes to give you peace of mind.
Provides ready-to-go APIs with supporting tools and documentation so you can easily integrate with your partners or build on top.
SAP Central Invoice Management with inbound processing for SAP S/4HANA Cloud, public edition: 
View all invoices across all channels – Provides a single view of all invoices across your ERPs (SAP ERP, SAP S/4HANA, SAP S/4HANA Cloud).
Increases paper and PDF invoice automation through embedded OCR – A single application for Accounts Payable to upload invoice images.

Intuitive drag-and-drop user interface for easy file uploads
Efficient processing of multiple files in one go
Built-in OCR technology for seamless recognition of invoice documents and related content
Native integration of OCR into the solution with no additional subscription required
Ability to extract header data from all invoices, as well as taxes on PO invoices and line-level details on non-PO invoices
Utilization of SAP Document Information Extraction service with AI/ML capabilities for recognition of common invoice fields
Access to a single SAP-managed learning database, pre-trained on thousands of invoices and diverse layouts in local languages from supported countries
Immediate benefits for all customers without the need for specific invoice template training
Enhanced data enrichment through leveraging SAP S/4HANA Cloud, public edition master data, particularly supplier data, for supplier matching and identification.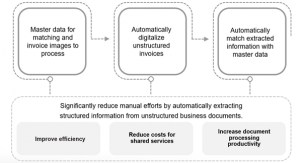 RPA – Supplier Invoice File Extraction from Email and Upload to SAP Central Invoice Management (6JX)
SAP RPA Bot for automating the creation of invoices received via email
Out-of-the-box RPA solution available from SAP Intelligent Robotic Process Automation Store / SAP Build Process Automation portal.
Streamlined extraction of supplier invoice files from email attachments and seamless upload to SAP Central Invoice Management (6JX)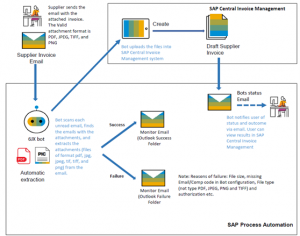 If you found the above solution interesting and useful for you, CONTACT Brainbox Consulting Digital to know more WITHOUT ANY DELAY!
About Us:
Brainbox Consulting is an existing Gold partner of SAP in the Netherlands and is now a Partner in India, specializing in intelligent S2P and supply chain solutions. Our multidisciplinary team brings together both business and IT professionals with over 5 years of industry experience in SAP procurement solutions, along with 25+ Ariba certifications with various models.
We offer the end-to-end spend management process with business, functional, and technical expertise, keeping your strategies as our focal point for developing IT solutions that enable your procurement organization to run better.
We also adopt the latest technologies to develop products to complement SAP in our Innovation Garage to help to fill in the existing gaps in the current offerings and complete the SAP product portfolio. We are now more aligned with the SAP strategy for the SME market as well and hence we have customized our offerings keeping in mind the challenges of the SME markets.
With the experience and niche skills of our consultants worldwide in the ISBN domain, Brainbox can provide quality outcomes and delight customers.
Follow our LinkedIn page for more updates about us and to get in touch with our experts!
#SAP #S4HANA #CloudERP #InvoicetoPay #ProcessAutomation #OCR #InvoiceProcessing #RPA #SupplierInvoiceExtraction #DigitalTransformation #BusinessAutomation #InvoiceManagement #AccountsPayable #ProcessStreamlining #SAPIntegration #InvoiceAutomation #OCRTechnology #SupplierMatching #DataEnrichment #MasterDataIntegration #BusinessEfficiency #ProcessInnovation #CloudERP #DigitalInvoicing #InvoiceApprovalProcess #InvoiceRecognition #InvoiceDataExtraction #InvoiceValidation #sap #sapAriba #ariba #sapbuild #sapbtp #brainboxconsultingdigital