Over the years there has been a shift of demand in the Supply Chain for a simpler and more affordable way of communicating with suppliers to help ease transaction flow, increase visibility and drive digital collaboration. Interactions among most buyers and vendors for S/4HANA or SAP ECC's are handled through means like phone calls, e-mails, and fax, leading to errors, inefficiencies, high costs and poor data. The desire is to move to a many-to-many collaboration where sharing, networking and visibility remove the barriers of the traditional communication methods. This is where SAP Digital Supplier Network (DSN) comes into the picture. Digital Supplier Network is a solution developed to enhance B2B collaboration network with the supplier community.
What is SAP DSN?
SAP DSN is a solution breaking down barriers of cost, simplicity and perception generated from traditional ways of communications. It is an affordable, fast, and simple solution working with both SAP ECC and SAP S4 while many of the business's existing suppliers are already transacting through SAP Ariba Network. Every time that transactional documents such as Purchased Orders (PO), Order Confirmations, shipping notices, goods receipts and invoices are exchanged through e-mails or EDI connections, DSN is positioned. SAP DSN enables a seamless exchange of the aforementioned documents through Ariba Network with a real-time transaction flow. Let us take the example of a PO.
When a PO is sent from ERP, it is digitally sent to their suppliers in real-time. As a result, order confirmations and shipment notices from sent from the supplier are automatically updated on the buyer's ERP in real-time. As a result, complete transparency and visibility are resulting in true automation across your supply chain.
Following is the pictorial representation of the document flow of SAP DSN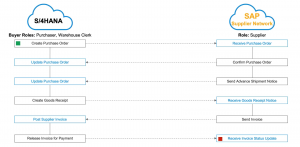 Of course, one of the questions you might ask yourselves is "What's in it for me?". SAP DSN is a solution offering benefits for both buyers and suppliers.
Considering the buyer side, SAP DSN adds value to your procurement process by providing the following benefits:
Elimination of the paperwork involved in the transaction process since all the documents are exchanged digitally.
Reduction of manual work and eventually decrease labour costs.
Strategic cash flow management. With the e-Invoice capability, the associate person can manage up to 50k invoices per year compared to 5k invoices per year while working on paper.
Digital collaboration with your suppliers.
Improved buyer-supplier relationship since queries and concerns are resolved through digital collaboration.
Increased efficiency in the ordering process at low cost.
Real-time updates on transactions.
Fast enablement and data enrichment.
SAP DSN offers intelligence to the supplier by eliminating the traditional ways of communications (phone, fax) and providing full visibility of the new orders, the status of the invoices and payments.
How Brainbox can help you?
We are here to help you support in your journey towards automation of the digital supplier network. We as Brainbox can offer you a No upfront Implementation costs, standard implementation Methodology and Expert minds. We support you after implementation with business as usual Support and Supplier enablement with very attractive price.
Are you interested in making your transactions and communication digital?
Feel free to contact us at sales@brainbox.consulting or at +31 639175566 for a free consultation. We would love to get to know you and your organization better!
LET'S MAKE THE PROCUREMENT SMART TOGETHER.